OFSI manages the UK's consolidated list of financial sanctions targets – over 2,000 individuals and entities spread over 26 financial sanctions regimes. These listings derive from the UN, the EU and (occasionally) the UK.
Fighting terrorism
It can be easy to forget why we have financial sanctions – complying can seem like just more paperwork, another form to fill out and box to tick. But looking at the sanctions we have in place, by regime, serves as a reminder of what we are trying to achieve:
coercing asset freeze targets into changing their behaviour and
denying them access to the resources they need to continue their offending behaviour.
The ISIL (Da'esh) and Al-Qaida regime has the largest number of individuals targeted (339 listings). They are followed by Syria, Iraq, Iran (nuclear proliferation) and North Korea (see graph). There are some common themes behind these listings, namely terrorism and nuclear proliferation.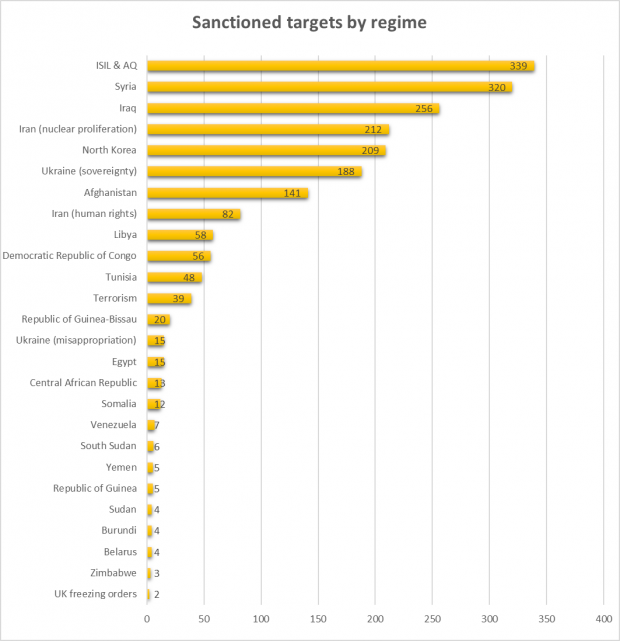 At the other end of the scale, we manage three regimes which have no financial sanctions targets. Mali was one of two new regimes created in 2017, along with Venezuela. The Lebanon and Syria regime – distinct from the Syria regime - was created to list suspects in the terrorist bombing that, in 2005, killed former Lebanese Prime Minister Rafiq Hariri among others. Eritrea was added in 2009 for supporting armed groups undermining the peace in Somalia. No financial sanctions targets have been added in that regime, although there are prohibitions on the financing of certain trade activities.
New targets in 2017
The focus over the last year has continued to be on nuclear proliferation and terrorism, with more than half of new additions to the list appearing under the North Korea regime. Another quarter were linked to Syria and ISIL (Da'esh) and Al-Qaida (see chart).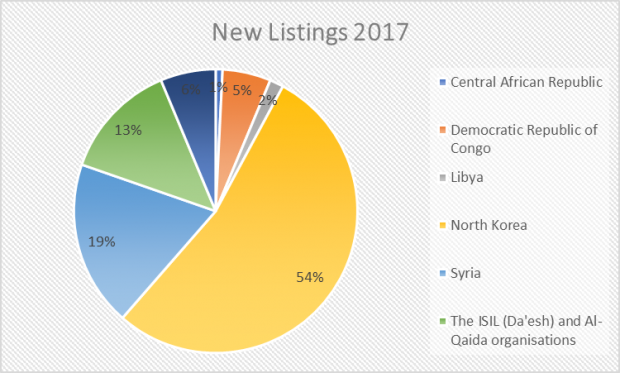 We sent out over 100 e-alerts in 2017, telling subscribers about updates to the consolidated list.
Last month, we made some changes to the service:
More of the information up front in the e-alert
An easy link that takes you to the full notice outlining changes
A link to the relevant regime page where you can find out about the rules and regulations that govern that regime
New subscriber preferences so you can select a sector or region that is relevant to you and receive only the e-alerts you need.
So log in and update your preferences or subscribe to get regular updates.